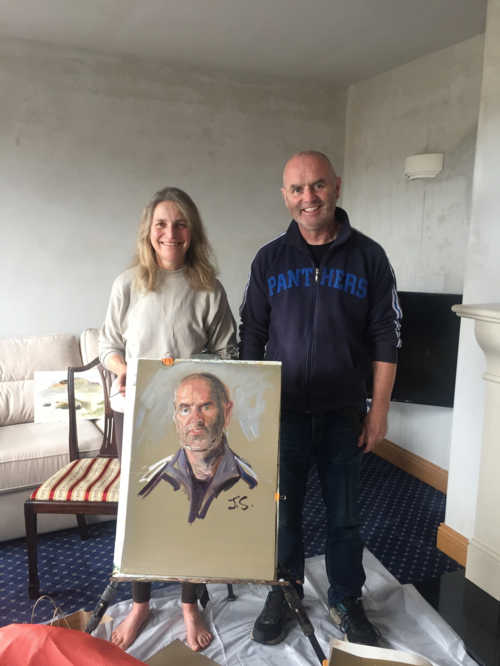 Danny
It was wonderful painting portraits in Ireland. Great light and great people!

Irish dancers at Rainham Hall open day
Henry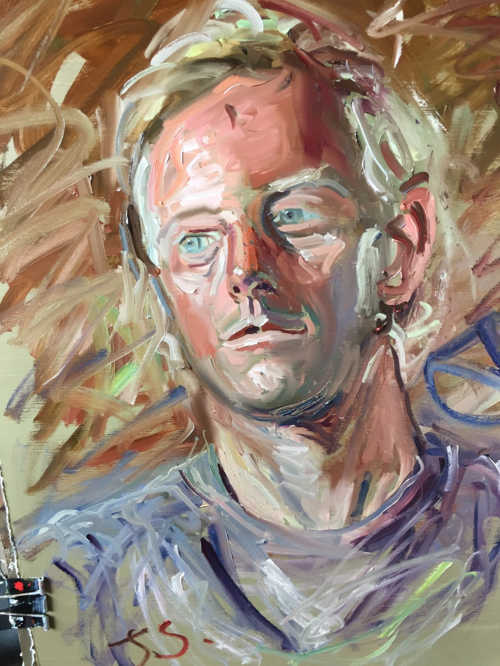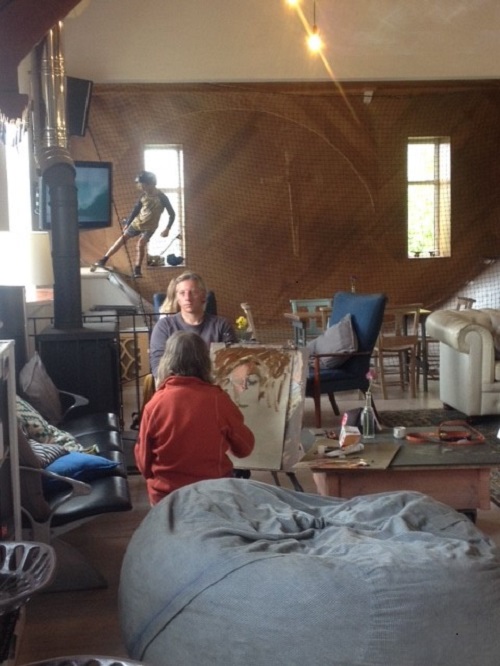 George and the Tubestation cafe
It was wonderful to paint George at Polzeath in the Tubestation cafe - a community cafe with a great creative atmosphere. George has a great face, and the Cornish light really is special. It reminded me of painting in Italy and Sweden.

Alley Cats
Here is a painting from Monday night's Jazz and Games. Jazz and Games happens every last monday of the month in Alley Cat Bar, Denmark St, 8pm onwards.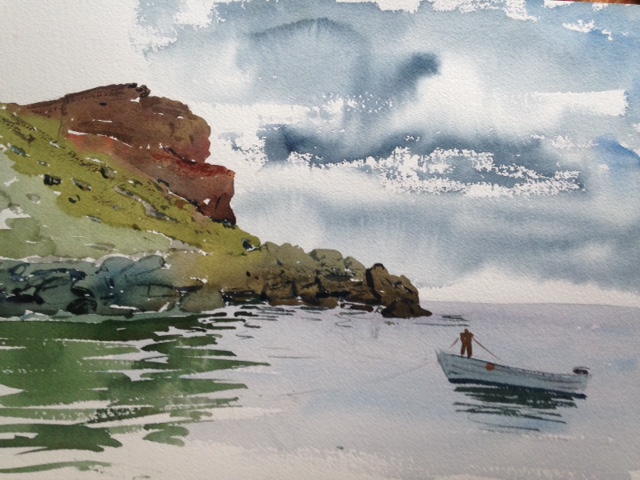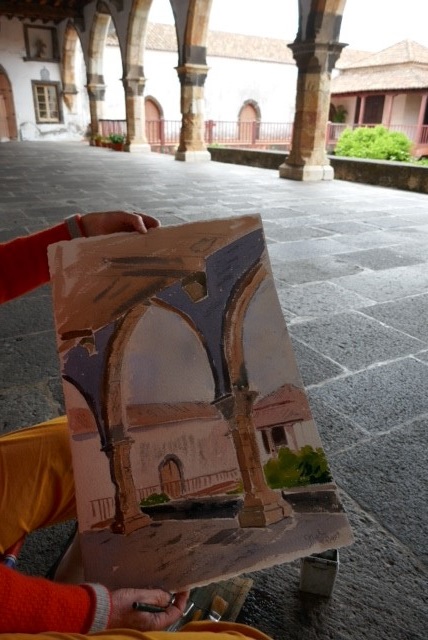 Madeira
I am just back from painting in Madeira - painting outdoors in the mountains and in a lovely bar where I spoke no Portuguese and everyone else spoke on English but it did not seem to matter. You can see more of my paintings from Madeira here.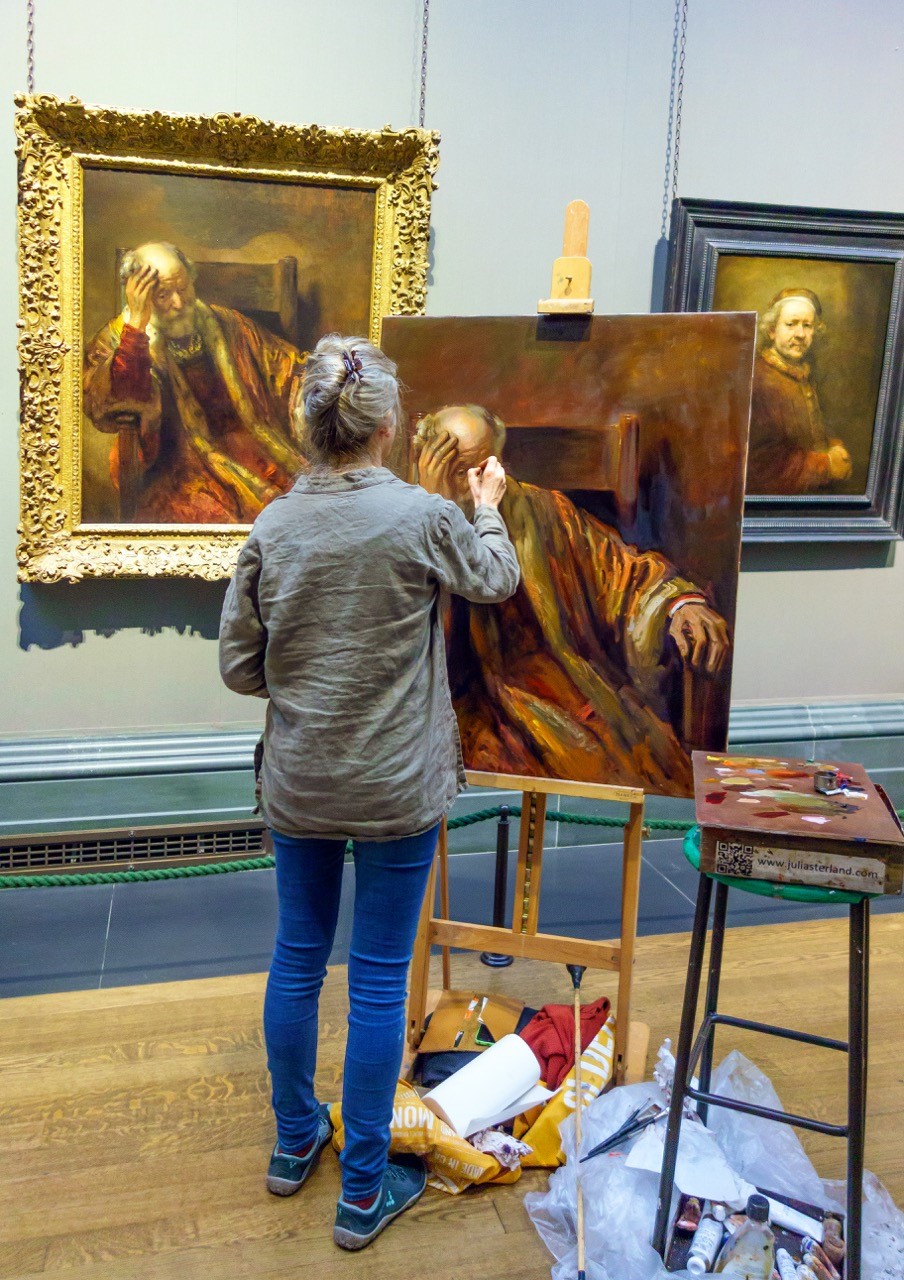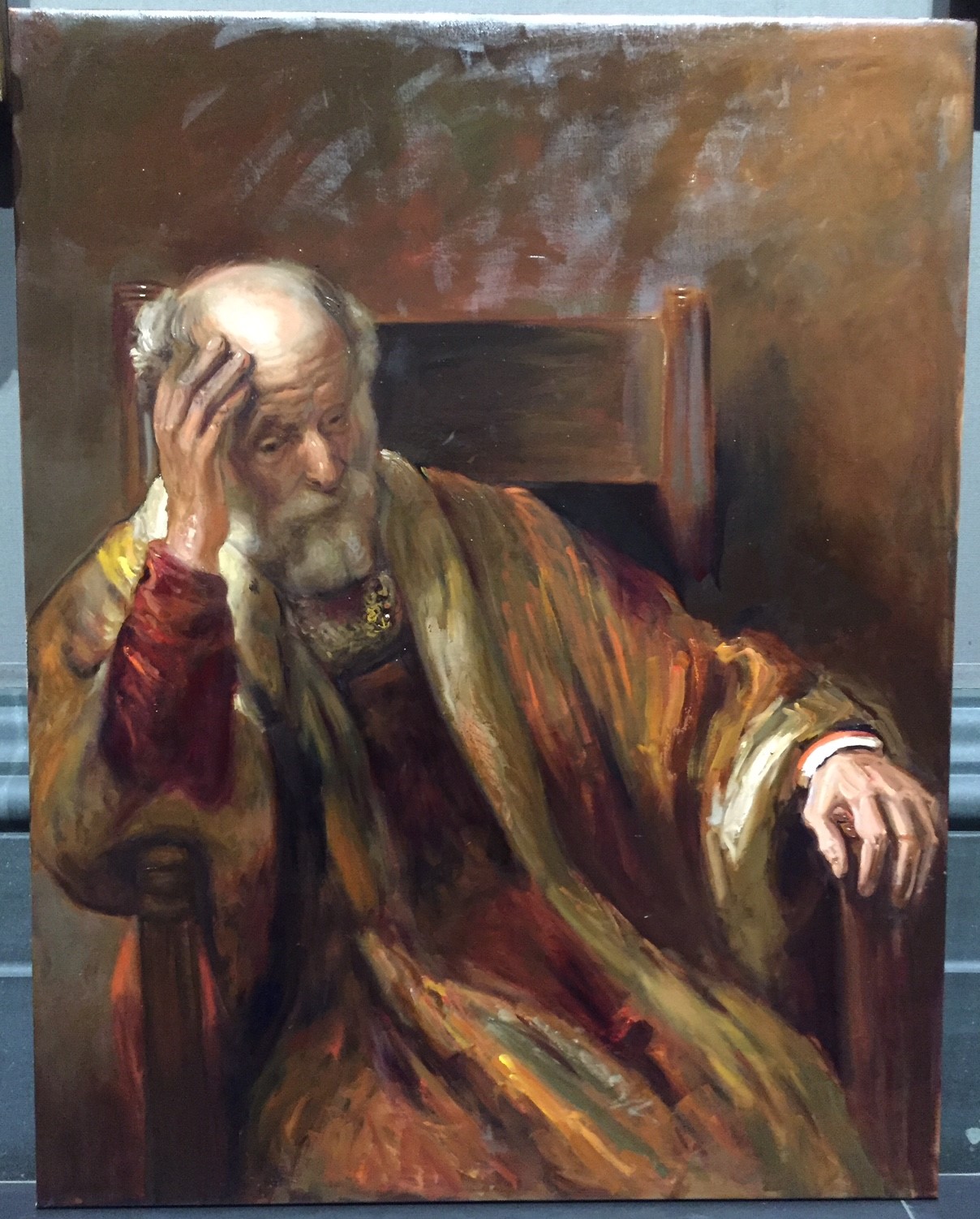 Painting in the National Gallery
Here's my latest painting of an Old Master in the National Gallery. Thank you very much to Richard Scott for the great photo of me in action.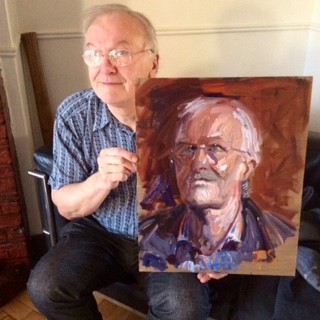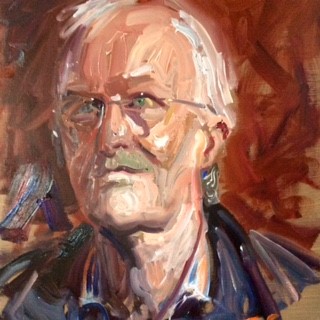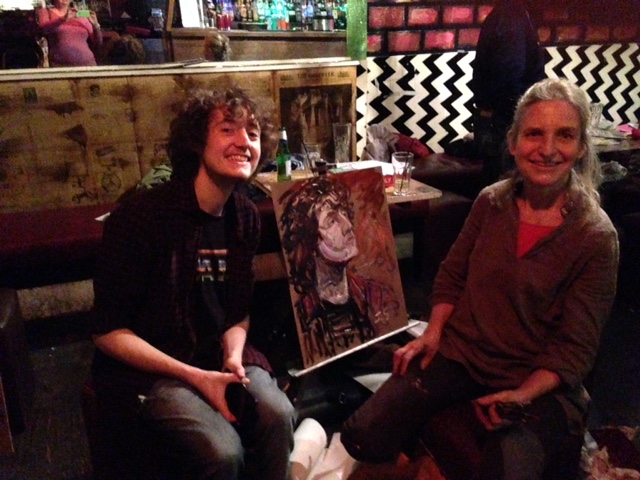 Painting Jim and Dan at Alley Cats
As always, on the last Monday of the month, I was in London, painting at Alley Cat in Denmark Street (as part of Jazz and Games 8 till late). This month my sitters included Jim who kindly said: "Came out of the blue - didn't expect to have my portrait painted. I thought it would be unsettling but it was actually quite relaxing. Absolutely amazed with the picture - in such a short time to capture the true essence of a Yorkshire man. Thank you!" Dan (see bottom pic) loved the event too and said he will certainly come again.

More Painting at the Parallax Art Fair



It was wonderful to paint at the Parallax Art Fair recently and I was very happy with some of the feedback I was given. "This is just incredible! Great work! It was so great watching Julia paint with so much passion, speed and intense concentration!"(Maclean and Abena), "With just a few strokes Julia can capture the essence of each person." (Ornella), "It was an amazing experience and the painting is something we will always treasure. Julia captured each of us in short a short period of time, such incredible talent"(Andy)

Painting at the Parallax Art Fair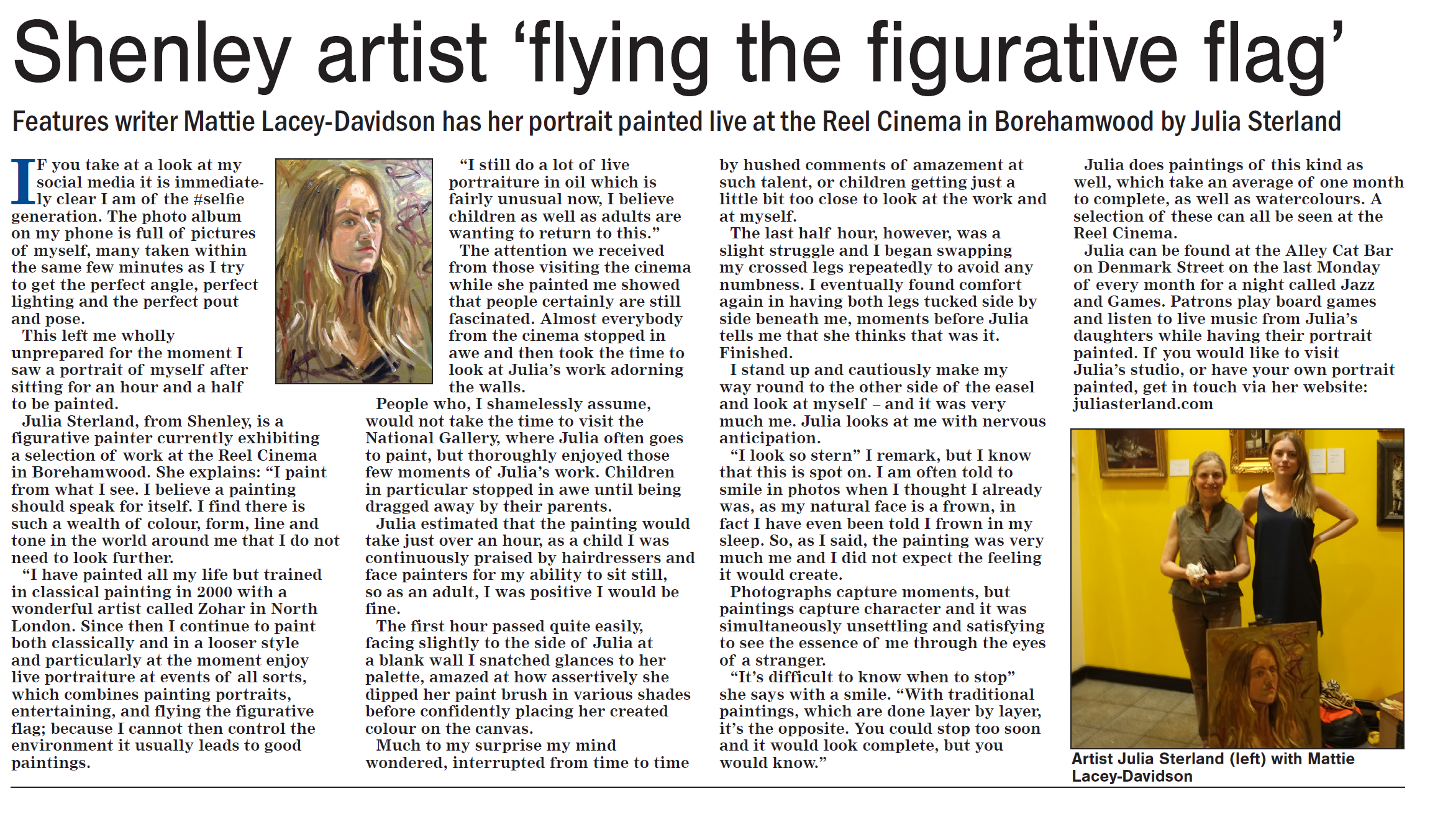 Flying the figurative flag!
I painted the portrait of the local Times Features writer, Mattie Lacey-Davidson. Click on the picture of the article for a larger version or read it online here.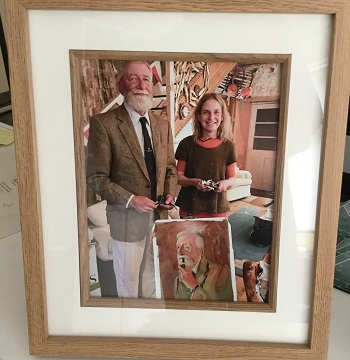 Jim


Dave, Tiziana, Martin and Shaun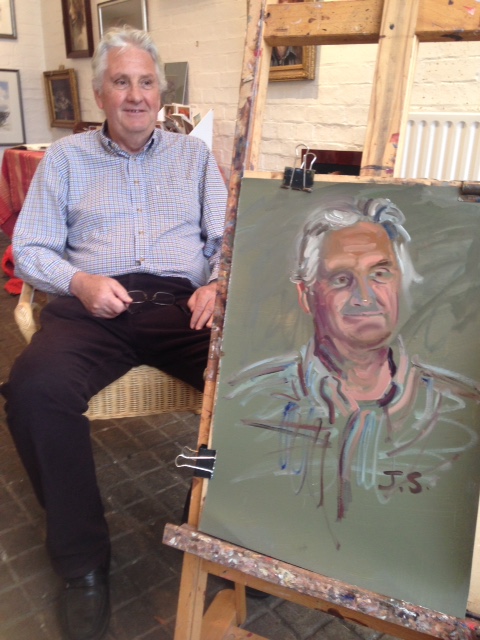 Portrait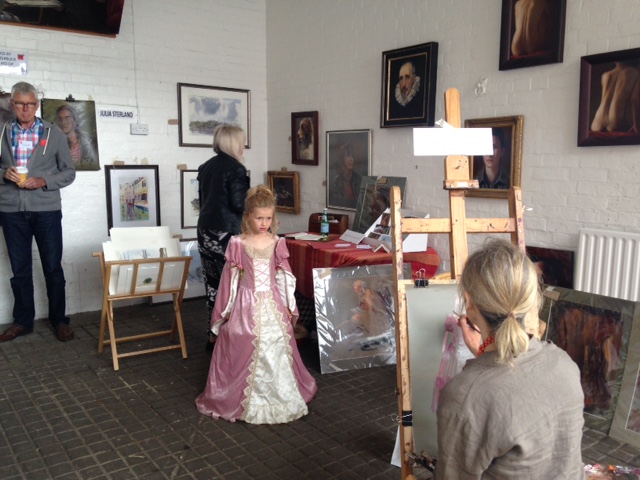 Painting a princess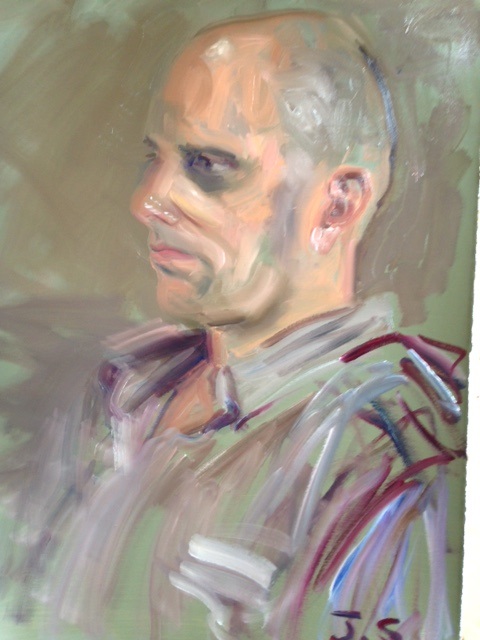 Another sitter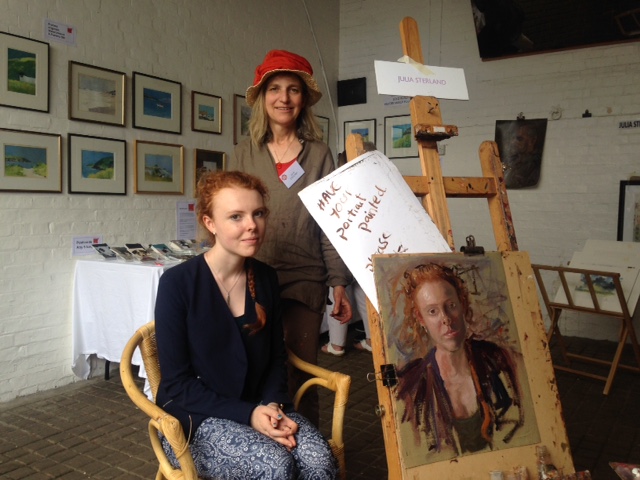 Painting at its best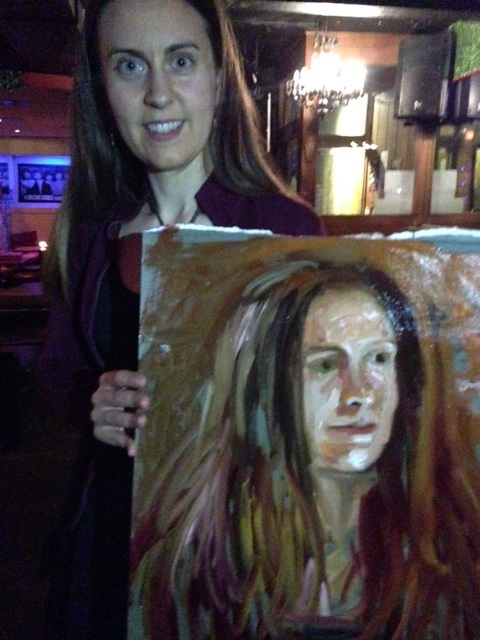 Caroline by Candlelight
I was very happy to get this lovely testimonial for the website from Caroline after painting her at Alley Cat. "I am really delighted with the portrait and I particularly like the effect created by having been painted in candlelight - it is both dramatic and warm and I absolutely love it! I was pleased (and slightly nervous initially) to be the first person to sit for Julia in candlelight, but she soon put me at ease, and I embraced the idea that the portrait would be a bit unusual and different due to the influence of the unusual lighting. When I saw the finished portrait I thought it was brilliant and was also impressed by how well it captured the atmosphere of the environment we were in."

Christine
Here's Christine with the portrait I painted of her yesterday. She said that "Being painted feels personal".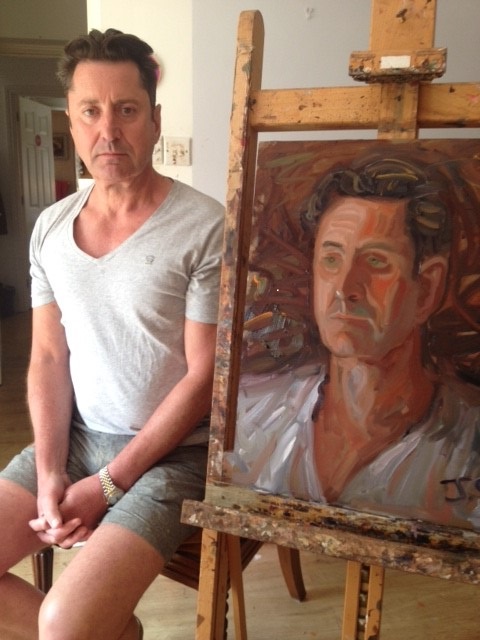 Portrait today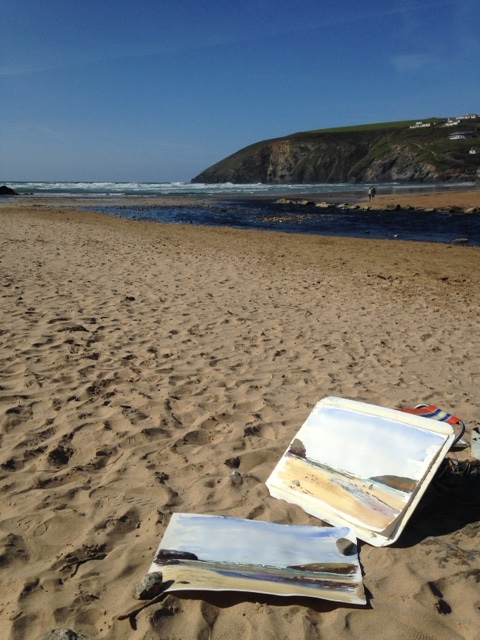 Painting in Mawgan Porth, Cornwall today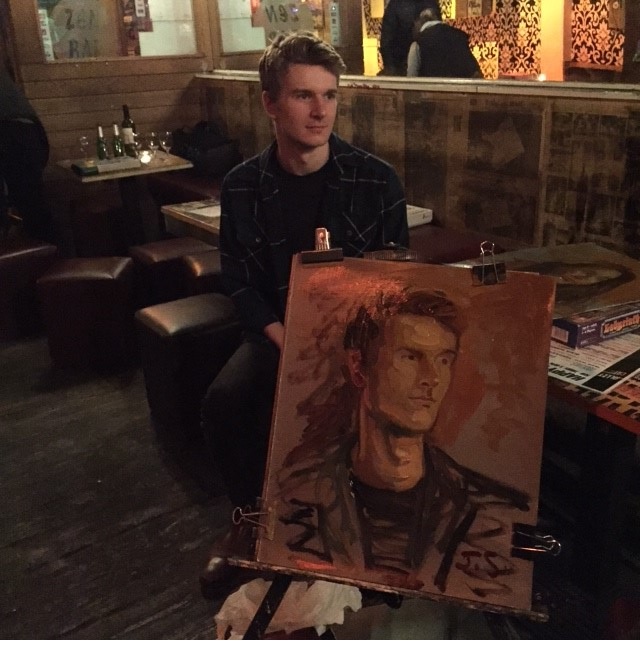 At Alley Cat yesterday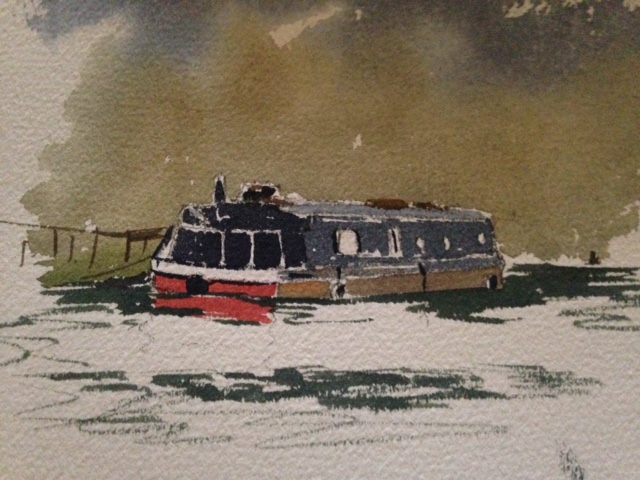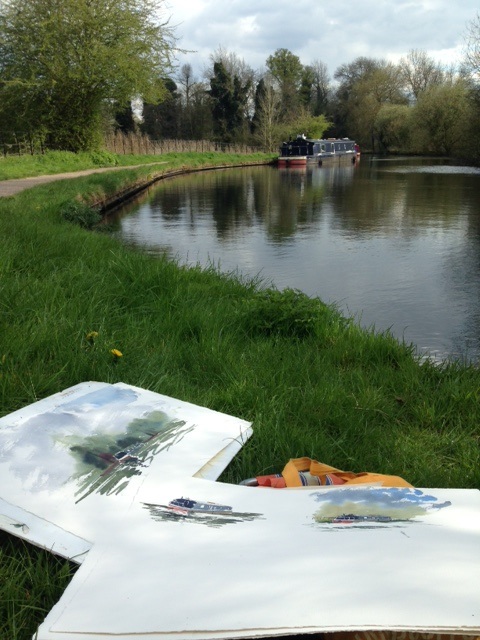 President Obama
I went painting today along the Grand Union Canal near Watford. Normally a very tranquil place my suspicions were initially aroused when a small boat with 3 policemen went up and down past me about ten times (so often, in fact, that we ran out of things to say to each other). However I was so engrossed in painting an old barge that it was only when a passer-by said to me that I should be painting between the hedges that I looked and spotted President Obama and David Cameron playing golf. A jogger asked if I was CIA!

Family history and portraiture
It was wonderful to work at the Who do you think you are? family history show at the National Exhibition Centre in Birmingham. Over 3 days I painted 15 portraits in aid of the Marie Curie hospice care, painting people from Germany, America and England all of whom shared an interest in family history. I can now understand how portraiture can play a real part in this process, with people passing on information and likenesses between one generation and the next. This made me feel very proud as I hope that my portraits will be used like this. I would love to be able to paint like this one day in Germany or America.

And here are some more family history portraits ...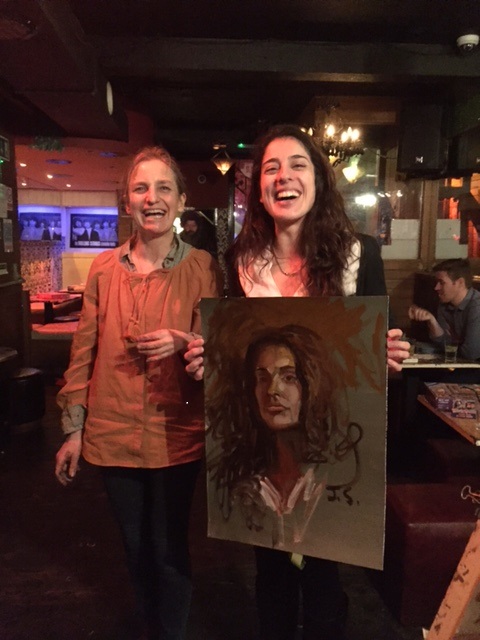 Another productive evening at Alley Cats
It was another uniquely creative evening for Jazz ,games and portraits at Alley Cats last night. Do come and listen to great music, play a board game and have your portrait painted. On the last Monday of month it runs from 8 till 11(and the bar stays open till 2) but come early if you want your portrait painted.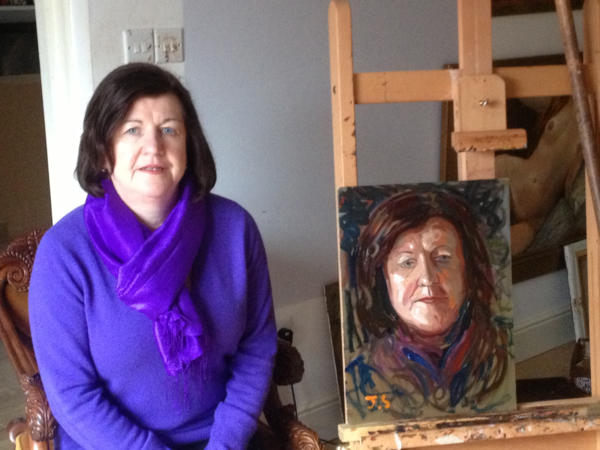 Family Likeness
I painted Ursuline today. She said that had always been told that she looked like her father, (and like his father too), but she had never seen this herself until she was painted.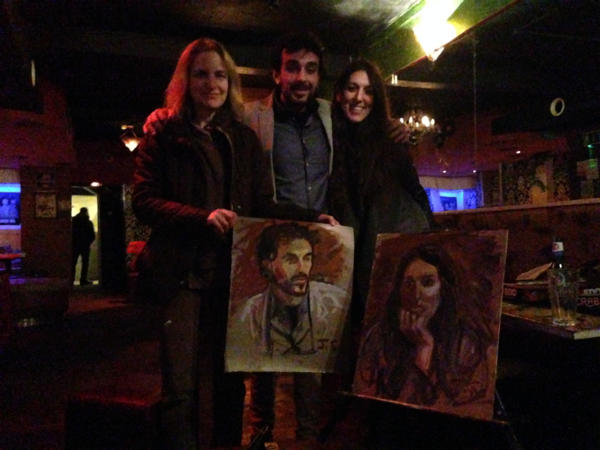 Alley Cat Last Mondays
The atmosphere for painting here is unique. No one is expecting to be painted; they are either about to play or watching others playing music - or they have come to play a board game. Do join us for "Jazz and games" from 8pm on the last Monday of each month and listen to great music, have your portrait painted and play scrabble into the small hours. There is a great selection too of traditional board games. Alley Cat, 4 Denmark Street, London WC2H 8LP.
... And here are two recent Alley Cat portraits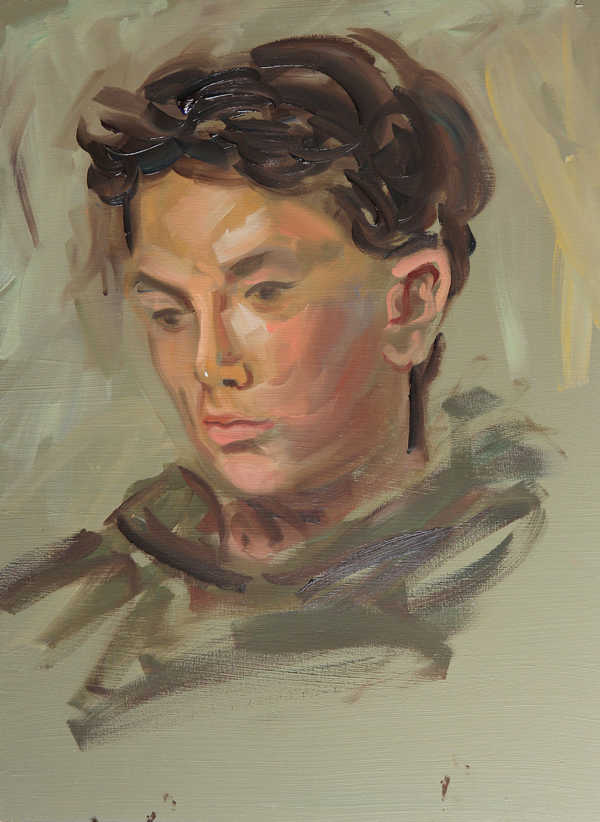 Bruno
This is my young cousin from Germany, who sat through Charlie and the Chocolate Factory in English so that I could paint him. Children are so beautiful it is quite terrifying to approach them with this kind of painting, like painting God. His reaction was good and kind, I generally find children are kind about my painting because they try themselves to paint figuratively and they know how hard it is.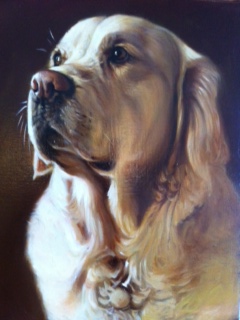 Bentley
The name says it all!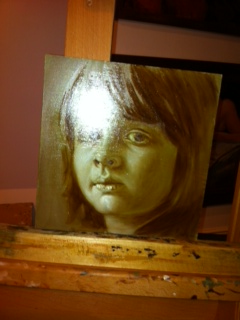 First stages of Leo
I went recently to Antwerp and Brussels and saw some phenomenal Dutch portraits from around 1500 all by unknown masters. I wanted to try to capture the fineness of their painting so started with Leo, my young friend in Vienna!. It is important to spend a lot of time on this early stage before introducing colour to get closer to what the Dutch painters used to do.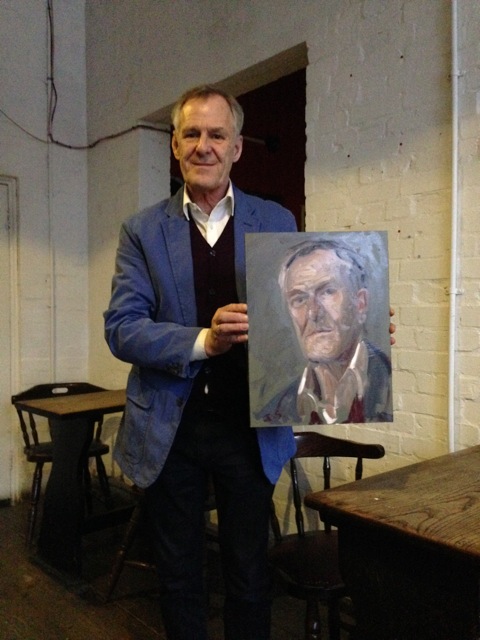 Portrait of a star
Here's Ian Gelder, the star of Gods and Monsters at Southwark playhouse, with the portrait I painted of him last week. It is wonderful to paint people in costume as then I am painting not the person but their character which somehow makes for good painting as it removes the fear! Ian has had rave reviews such as this one from Time Out: "Gelder gives one of the very best performances in London at the moment, absolutely compelling. " or this one from the Stage: "The superb Ian Gelder portrays the predatory loneliness of Whale with acute sensitivity and longing"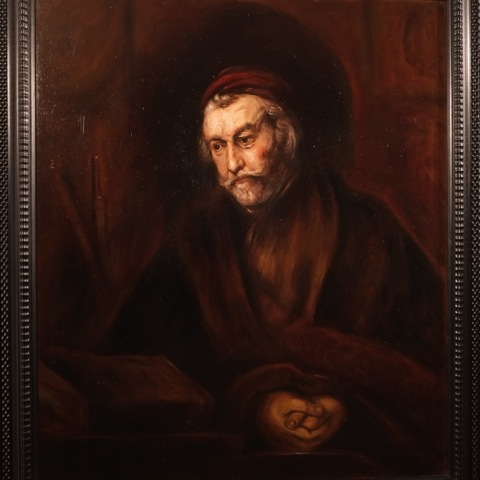 An elderly gentleman as St Paul
This is my copy of a wonderful Rembrandt. It took me 2 days a week for 3 months. I am just beginning to like my copy, but more than anything I learned so much.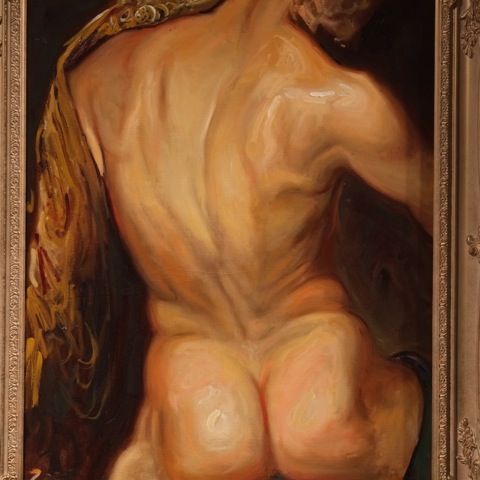 Back from Paris!
I finished this at the National gallery about 2 months ago. It took me 7 days sitting in front of the Judgement of Paris. My favourite comment from a child observer: "Yuck. She's painting his bum". Now feel I want to paint more male nudes.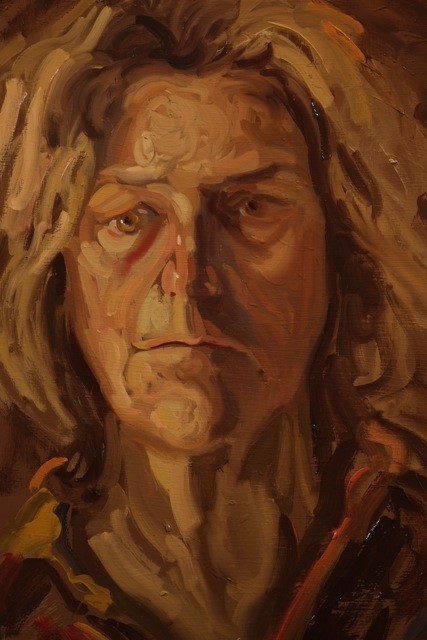 My first selfie
We have just returned from Cornwall and I had not painted any people for a week. I really missed it and couldn't find a subject, so I became desperate and reached for a mirror. I am very pleased with this. This is me with nothing hidden. Just me. I am glad i did it but it needed the combination of desperation and not giving a damn how it turned out to make it good.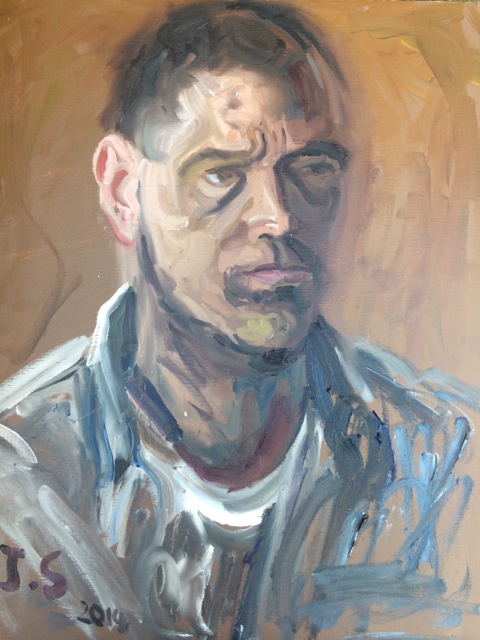 Another painting from the Kirk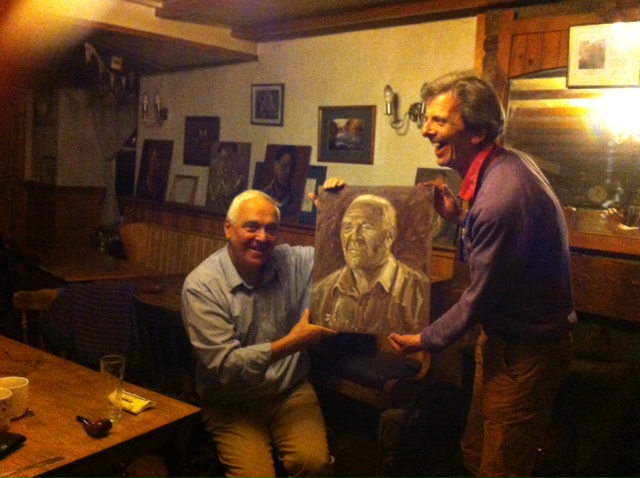 Mint Tea in Teesdale
Another wonderful time taking up my artist in residencyship in the Kirk Inn, Romaldkirk, Teesdale. I painted Brian last night. Despite being told to look serious he couldn't stop laughing, (as usually happens on a Friday night in the Kirk). It is impossible to take painting too seriously here - or anything else really. It's a great tonic, mostly due to landlord Paul's sense of humour. I persuaded him to serve fresh mint tea - you pick the mint yourself near the wood pile outside. If you want another type of drink you usually just pour it yourself! Can't wait to come back.
BTW you can see other pictures I painted on previous visits to Teesdale using this link. (June 2014)
Glazing Paris!
In the National Gallery today and I have started glazing my picture of Paris' back with colour. It is difficult to maintain the looseness of the brush strokes of the underpainting and not lose the form of the under painting. I packed up, thinking I had finished, and put the painting against the wall as usual, but looking at it from a distance I realised it had lost something so I smudged it all with a rag, which seemed to work well! There was some great comments from the children in the Gallery today - I like to think some of them will want to be figurative painters too! I am already nervous of my session next Thursday, but people think artists enjoy themselves so I don't want to destroy the illusion. (June 2014)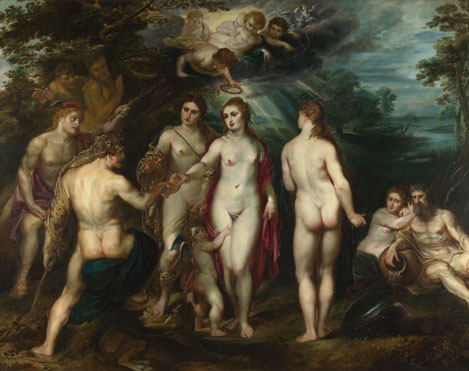 Paris' beautiful back, and an interesting theory
I have just started my very own version of Rubens' "Judgement of Paris" in the National Gallery. It is really exciting! In my view the best part of this painting is Paris' back, which is perhaps not surprising as he was the most beautiful man in the world. I am just painting his back and ignoring the three weak Goddesses on his right. While I was painting today in the Gallery today a guide escorting some schoolchildren asked them why there are so many naked people in the National Gallery. The reply was maybe they are all going swimming - a lovely idea I think. The children were mostly complimentary, but one had a verdict of "yuk". I finished the underpainting very quickly today and will continue it (in Room 29) on Thursday 5th June. (May 2014)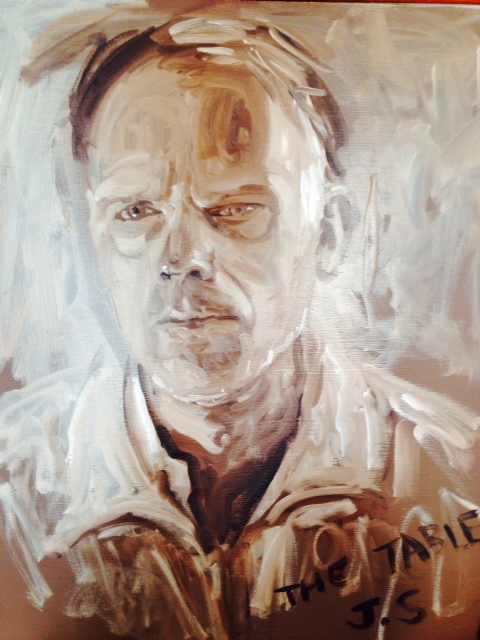 Painting on the hoof....
I like painting portraits in different circumstances, particularly with lots of people around as it forces change on me in a way I can't control; there is different light, different time pressures, different emotional forces all of which I can't predict. I painted four portraits at a family reunion last weekend in Berlin. This one we called "The Table" as it was painted in the sitter's house just before a breakfast for 20 people. He had the utmost difficulty in not getting up and taking control while his large and precious table was moved into the garden, his wife having decided that the weather was good enough for an open air breakfast. He said he learnt a lot about himself - and it is all recorded! (May 2014)
... And the other three from Berlin
The impact of underpainting
I have just finished this portrait of my daughter Charlotte and I really feel my work in the National Gallery helped me. I first started painting at the National gallery because I really wanted to get to understand how artists captured life after hundreds of years. The Rembrandts have been my best friends since I was a child. The answer is in the underpainting, which I learned to do with guidance from my teacher Zohar who came into the gallery. I have realised how much the quality of the monochromatic underpainting creates the final painting, and my aim is to able to consistently achieve this feeling of life whether in an old man (I particularly enjoyed painting Rembrandt's self- portrait), or in young people (I copied Corregio's "School of Love".). I am not sure what to try next at the National Gallery - but maybe a nude male back by Rubens (April 2014).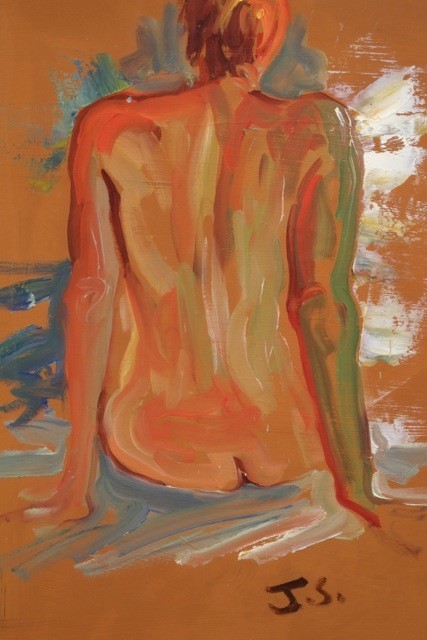 Nudes collection - and inner stillness
I love painting nudes from life, and I have just added a few quick paintings to the nudes page on the website. They each take about 20 minutes. The main thing is the personality of the models; they are such wonderful people, to be so happy with their whole body, and we don't stop at the neck! There has to be a connection between artist and model. It is not about the perfect body but about inner stillness, of both artist and model. (April 2014)